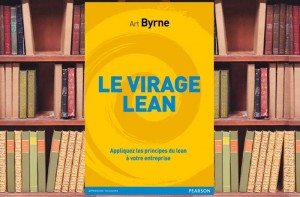 Bien souvent, le Lean est réduit à une suite d'outils  dont le dirigeant, un peu à la manière d'un ERP ou d'un Workflow, peut disposer pour améliorer l'efficacité opérationnelle de telle équipe de support ou de telle autre de production. Il va alors en déléguer la mise et oeuvre et l'infliger, de loin, à ses équipes afin d'obtenir une amélioration sensible de l'opérationnel. Bizarrement, les résultats ne sont alors que rarement au rendez-vous.
A mesure que l'on découvre des cas d'étude dans lesquels le Lean fonctionne, on se rend compte que Dan Jones et Jim Womack ne plaisantaient pas lorsqu'ils parlaient dès 1995 d'un système total de Management. Un système qui concerne l'ensemble de l'organisation : les équipes opérationnelles mais aussi le management et, encore plus important, le dirigeant.
Ce livre rappelle qu'un dirigeant qui attend d'une initiative de transformation qu'elle fonctionne sans s'impliquer lui-même complètement c'est un peu comme ces parents qui s'étonnent du langage châtié de leurs enfants alors qu'eux même ne cessent de jurer. Be the change you want to see in the world disait Gandhi : Art Byrne walks the talk et offre ici un ouvrage de dirigeant pour dirigeant. Un executive au pedigree impressionnant dont celui d'avoir dirigé Wiremold, un des cas d'étude de l'ouvrage séminal de Jones et Womack cité plus haut. Art a en outre permis en 10 ans à son entreprise de multiplier par 25 sa valeur (de $US 30 millions à 770).
Il délivre à travers ce livre une perspective à la valeur inestimable, où la confrontation directe avec l'indocile réalité incarne la démarche vertueuse d'un leadership moderne. A offrir à votre CEO pour la Saint Valentin et voici pourquoi … Read the rest of this entry »